Short gold now (@1275) for a small position (due to the uncertainty around the US election). Stop above the prior support, now resistance @1305. Target @1205 (Daily 500MA and prior lows). Risk-Reward: 2
Monthly View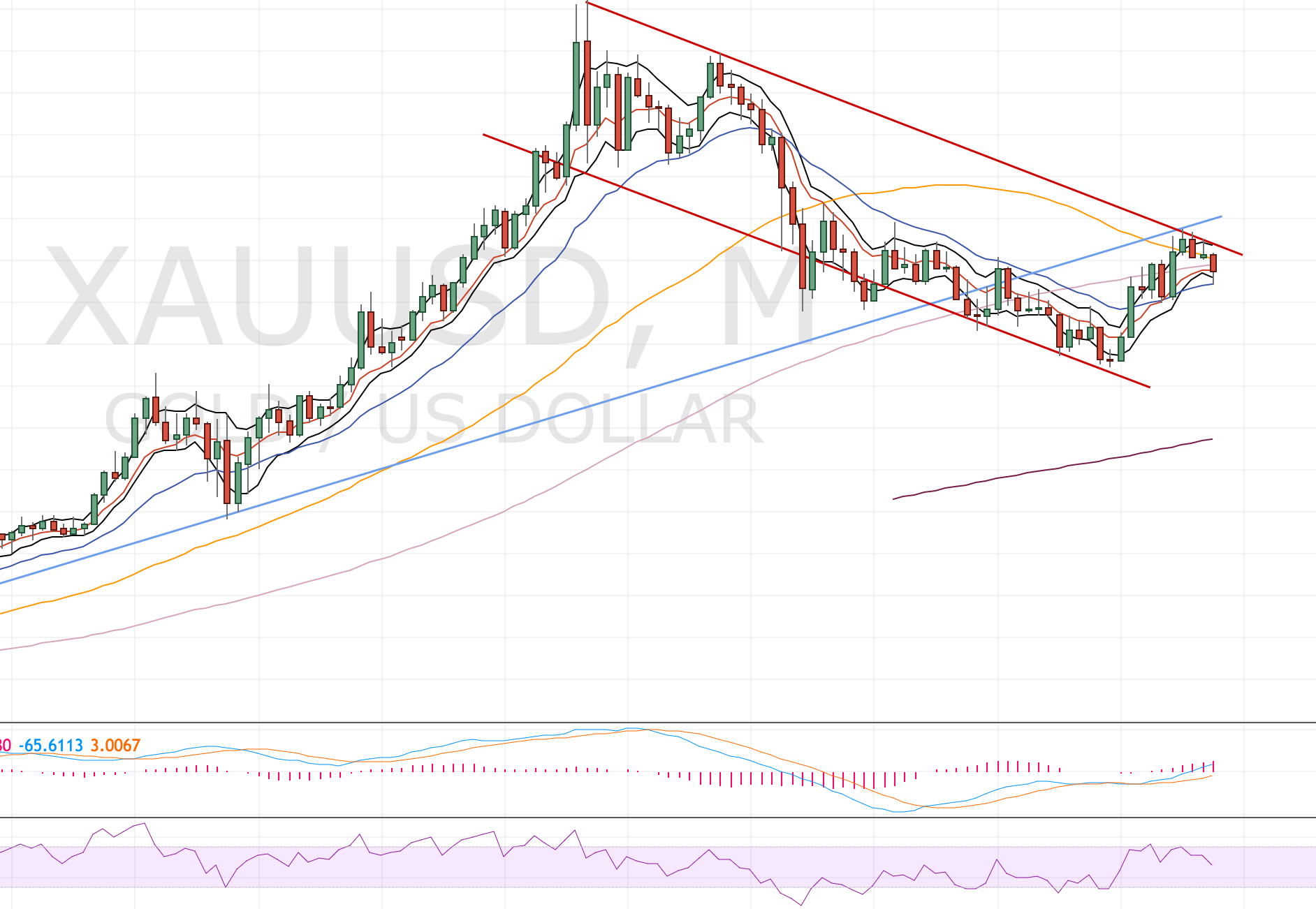 Price has started to move away from the upper trend line.
RSI shows divergence at the recent highs
50MA (yellow) about to cross the 100MA (pink)
Against that view, price has held the upper trendline for a few months so might indicate more upside. Price also tested but didn't break the lower band.
Weekly View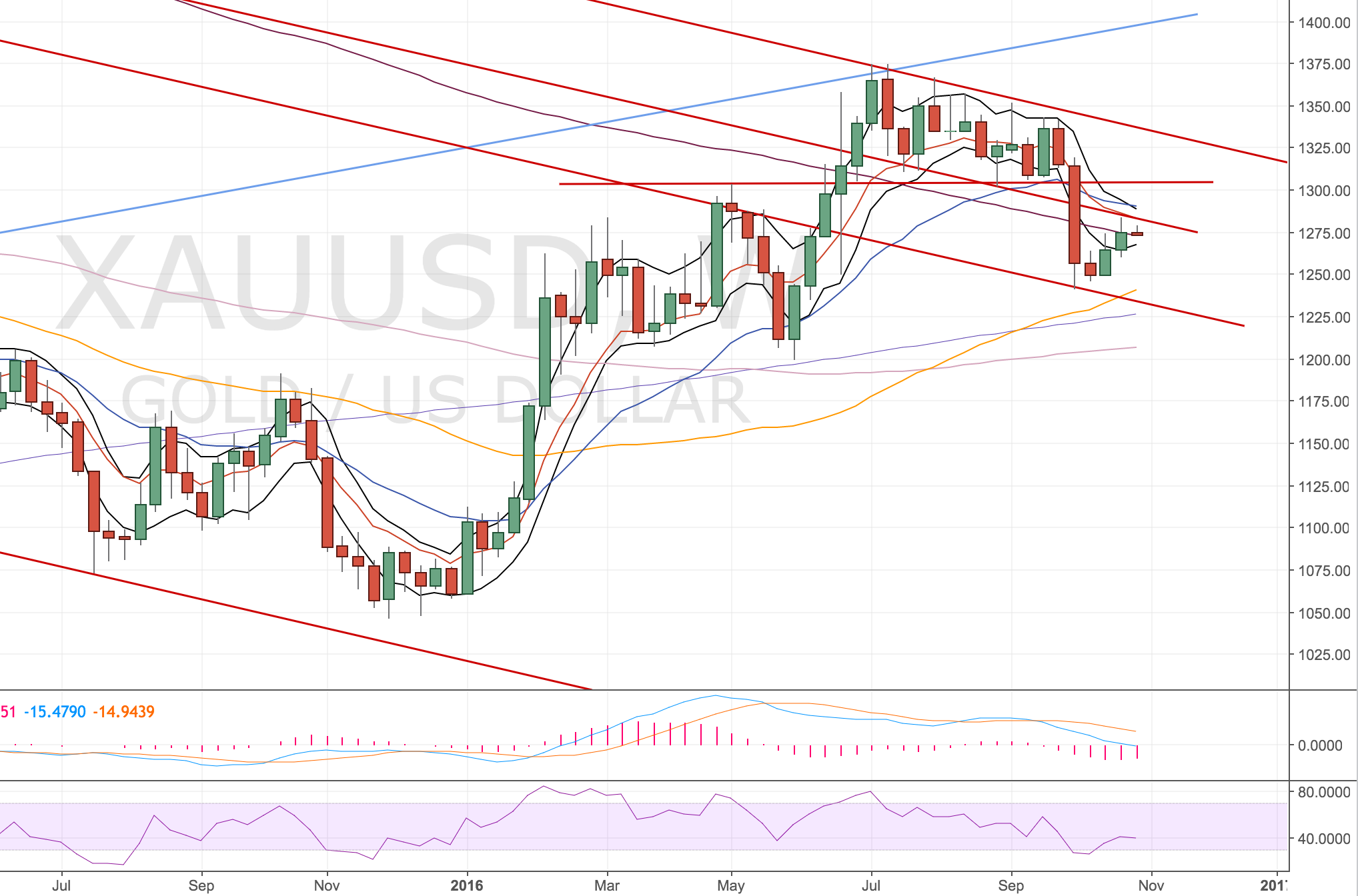 Price has broken through a downward trend channel and is now coming back up to test it.
That trend line coincides with the 8EMA (red) (which has just crossed the 21EMA – blue)
The upper band is also near these short term MAs.
A few points against, there's rising long-term MAs which will offer support 50 (yellow), 100 (pink) and 500MA (purple). The 50MA has just crossed the 500 and 100 as well.
Daily View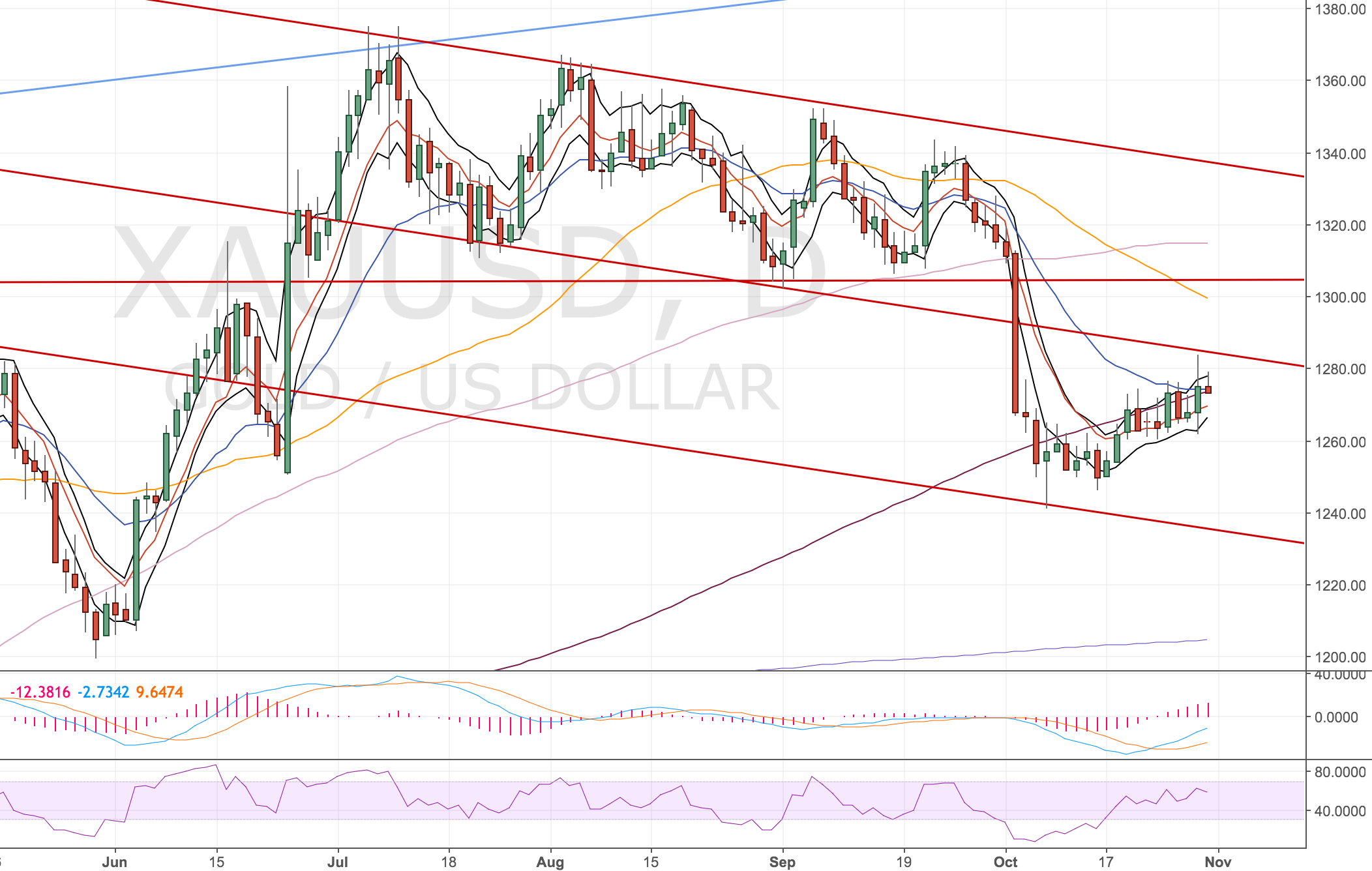 Price has come down to hug the 200MA (purple), so would expect a follow through.
The next MA is the 500MA (purple) at 1205 (nice target?) Quite far away but does coincide with prior lows.
There's a bearish flag pattern so would expect more downside.
The current daily price range is very tight
Against those points, there's no real sign of waning of momentum at the moment on the RSI or MACD.
Other thoughts
Look at the multiple moving averages:
Weekly: Price looks to be working through the long-term moving averages to the downside (was a bounce off the Monthly R3).
Daily: Price has gone below and is now testing the slower moving averages.
Overall
Weighing up the points I think there's enough to be short gold for a small position for now. I'm not sure about the affect the US election will have so playing safe. I don't see why another Brexit style spike couldn't happen if Trump wins.
Update 4 Nov 2016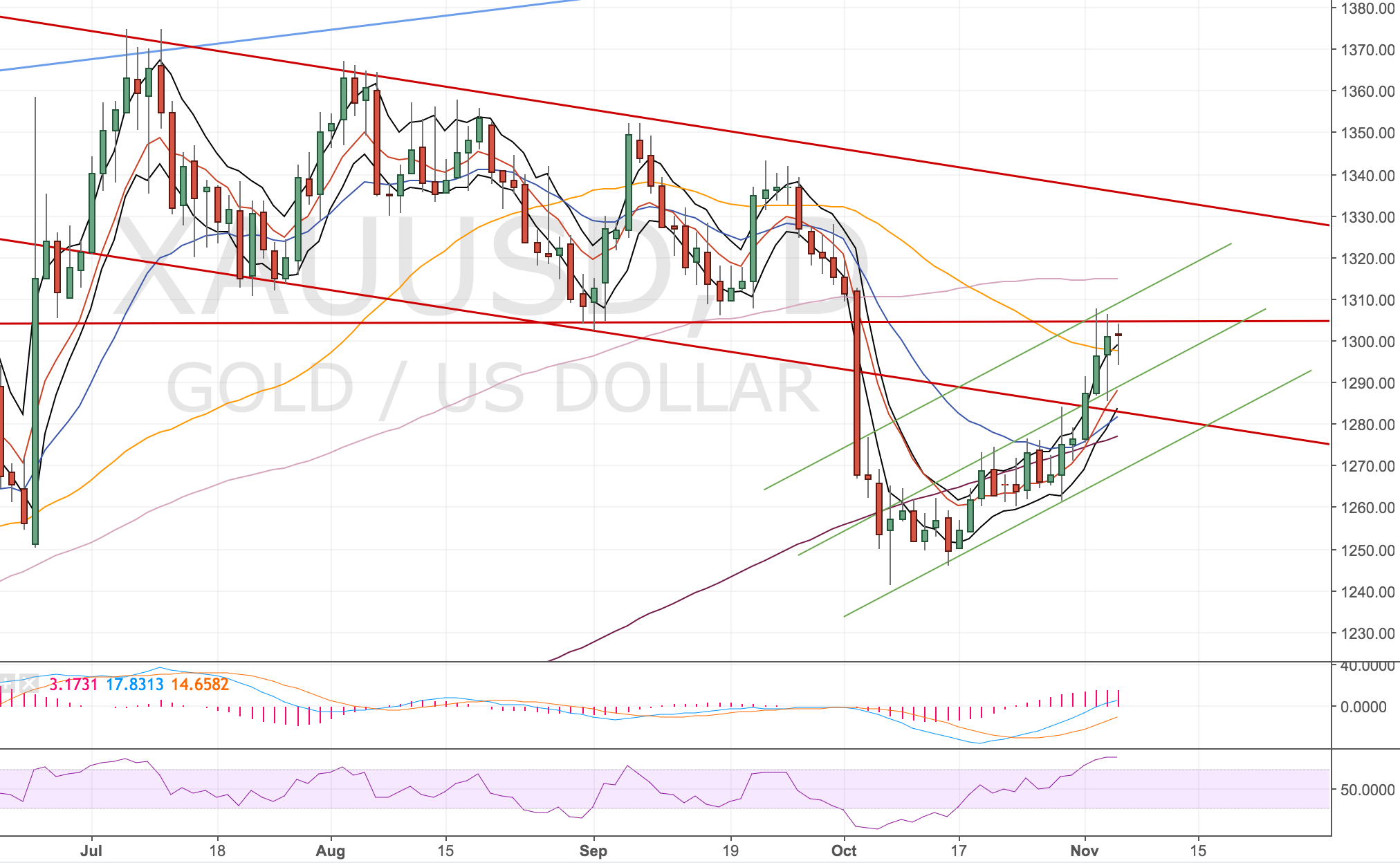 Just been checking this trade, since we placed it and price action has moved higher. For now, it seems to have tested the resistance at 1300s and is holding … for now. I actually tweaked my stop slightly! The 1305 level I identified previously was right on a cluster of prior lows and so I moved it a little higher to 1311.
I've also added another trendline double the width of my last one. This was a technique I picked up from MoneyWeek about using a prior trend channel to project the next target. You copy the trendline and create an adjacent trend channel. Seems to hold fine.
We're going into NFP today, and we're currently sitting @1300 so I can see my stop getting hit if there's another miss on figures. It's a small position so I'm happy to sit on this. I've invalidated a few of my previous reasons to get short but I can still see downside potential in this.
Hopefully price will move away from stop so I've got some more breathing space, if Clinton wins the election, I can see some good downside potential.
Update 11 Nov 2016
So Trump won and gold has fallen quite dramatically – the opposite to what I was expecting. The initial rally in Gold over election night was all bark and no bite.
Anyway, my short trade was a loser. I was stopped out @1311 on election night with the surprise news that Trump was going to win. I'm fine about this, I knew it was a risk and it turned out to be true. The position size was small and it looks like – for the time being – I was trading in the right direction. So I will look for another reason to get short.
I could've not traded, knowing that it was likely to be affected by the election but that was the reason I kept my position size small. It was a small lose just under 1%.
So I'm looking for another short set up, but in the meantime I can see a retest of a prior low which hasn't been tested for a long time. I'm interested in the retest of this level @1208 level. It's a first test since June and I'm considering another small position buying at that level for a bounce to the 21EMA using the bands. Will think about it over the weekend.