Monthly outlook
At the end of August, thoughts going through my mind at the time were:
Have we made the MACD divergence yet? Not a convincing low yet (especially as my 2017 low was the GBPUSD flash crash)
If we are rallying from here – should I hold for the TL or the usual d50.
Thinking for now is we are still bottoming for now.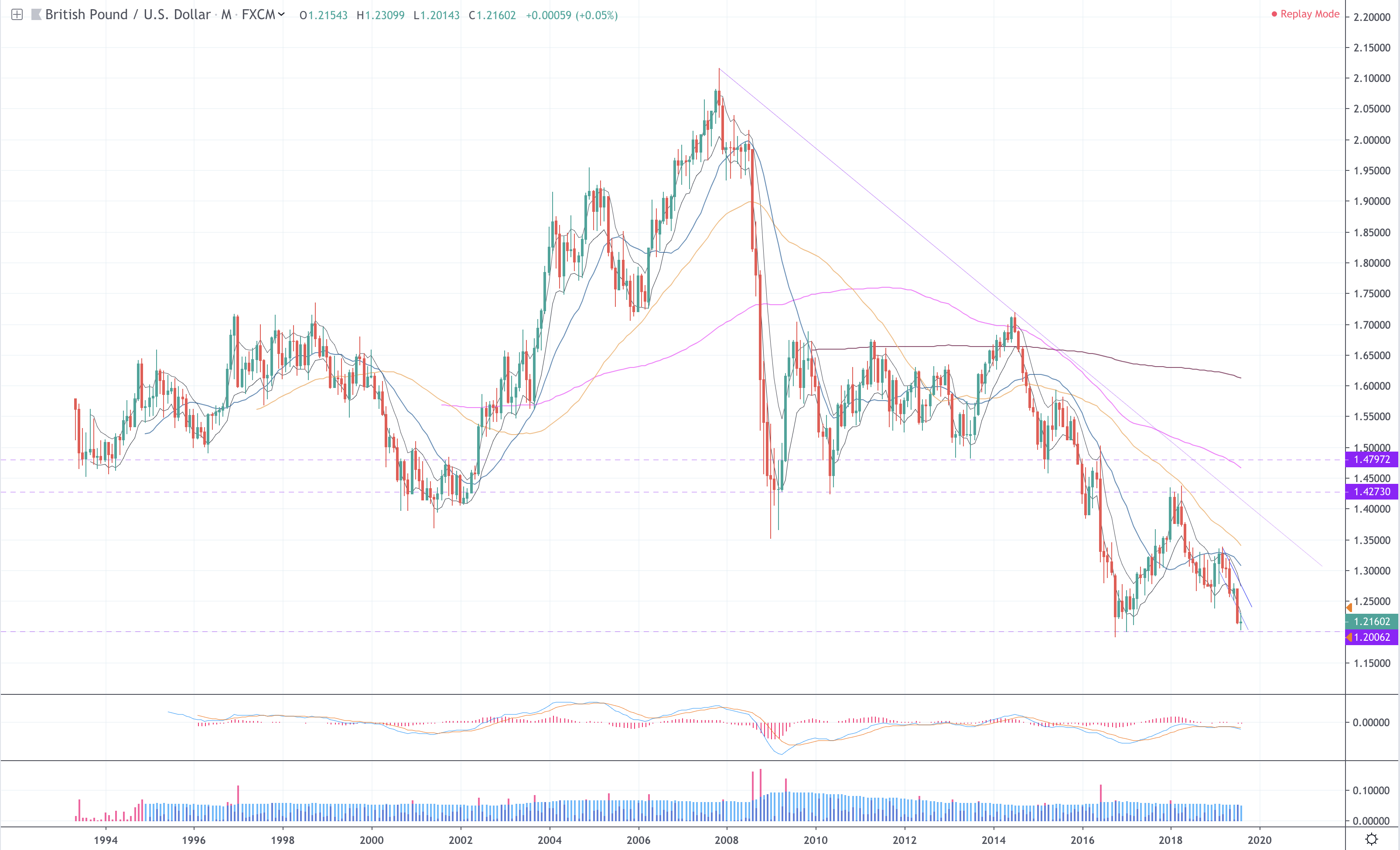 Weekly outlook
Weekly no divergence in play, so expecting any rallies to be short lived. Short term target of 1.248 if we do rally. Most likely path would be for fresh lows.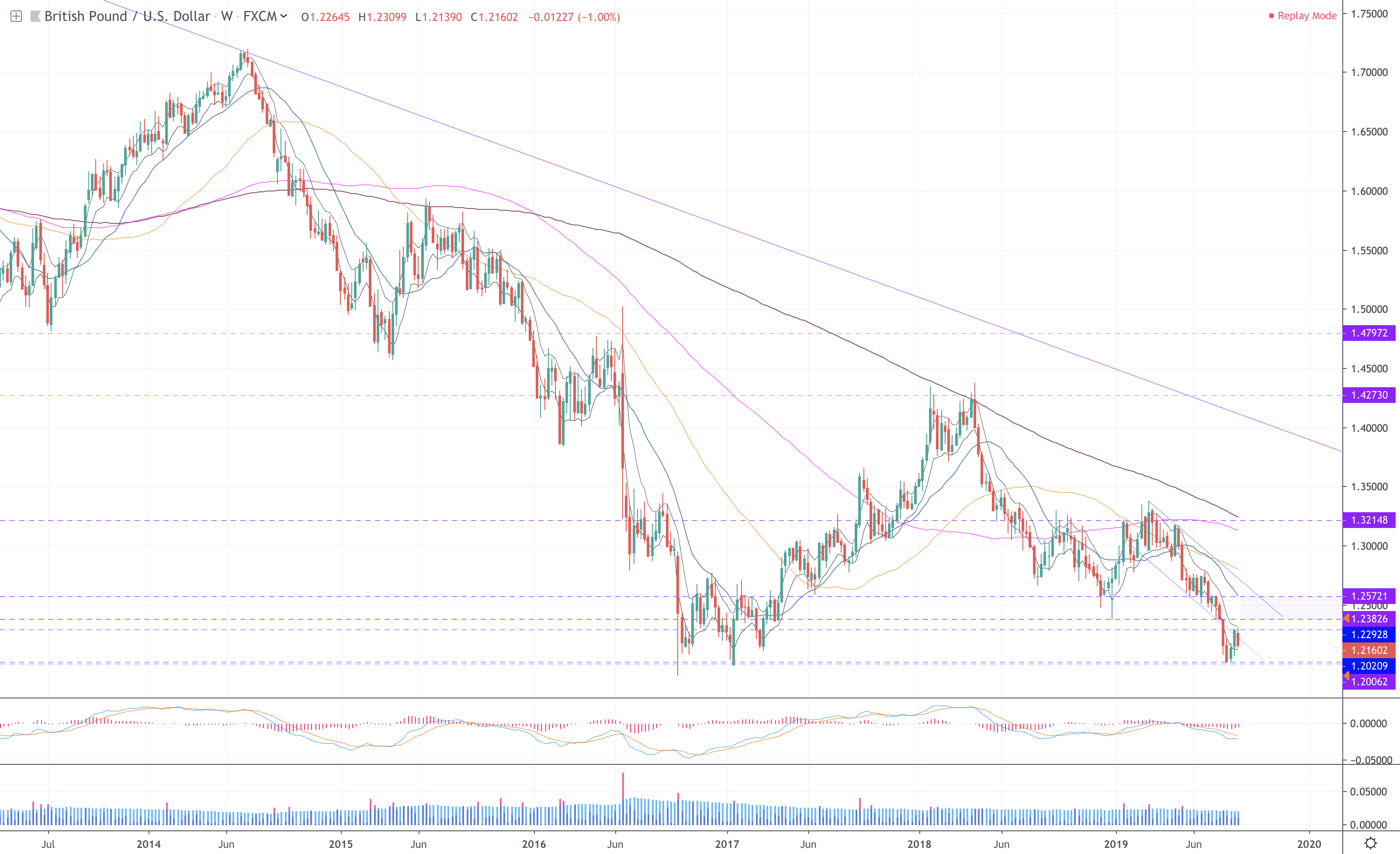 Daily outlook
Looking for fresh lows. Was thinking very bearish here. Had 1985 lows in mind at 1.056! But ultimately looking for a MACD divergence to set up. I think I was wayyyyy to keen for a collapse in the market.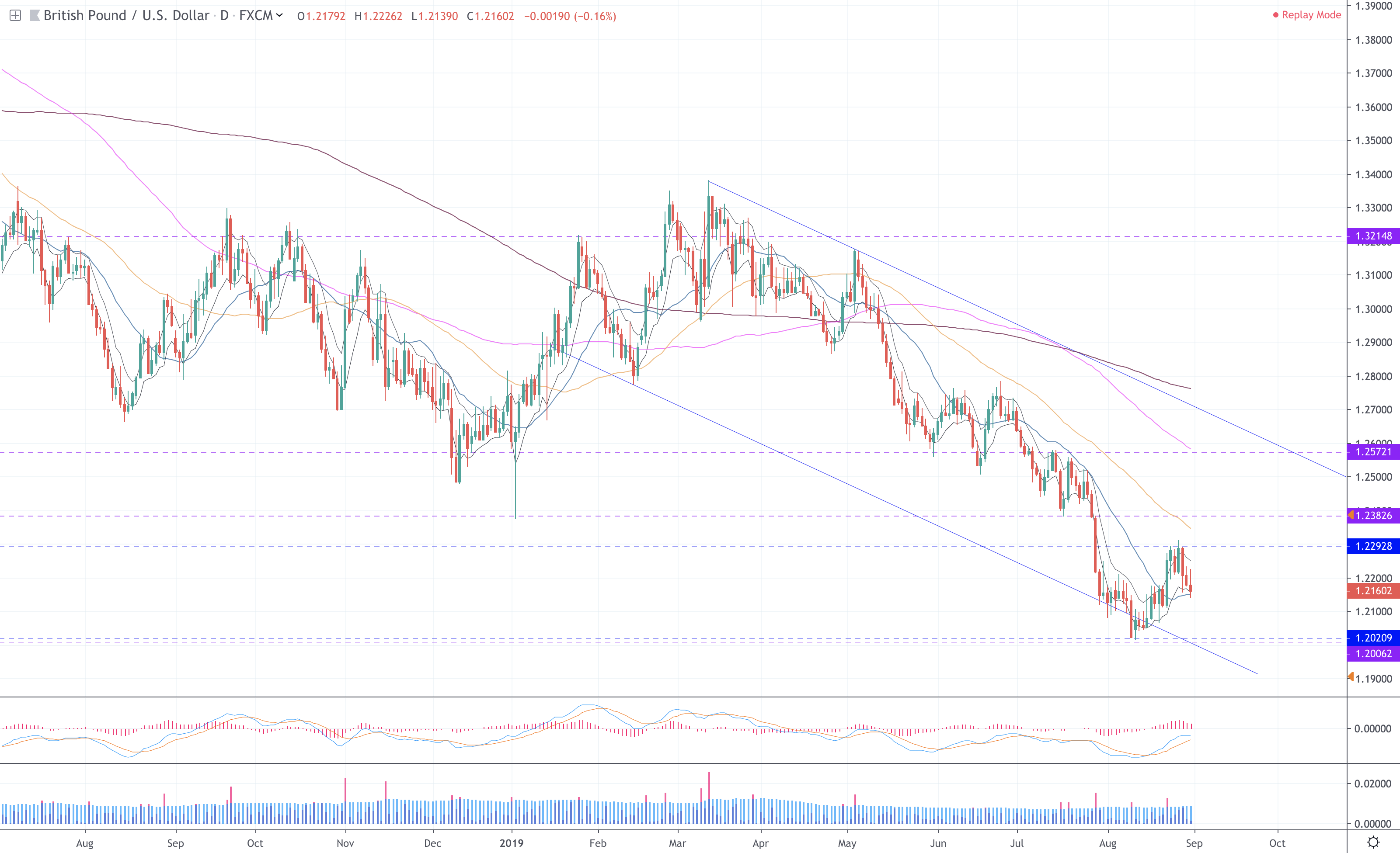 02 Sep 19 – GBPUSD 1h SFP Short (+1.48R)
Took a 1h short SFP short from this trendline and S/R level. I really liked the set up. Had a TL kiss goodbye, a prior level that had been washed but then briefly retested. Candle was a pinbar short.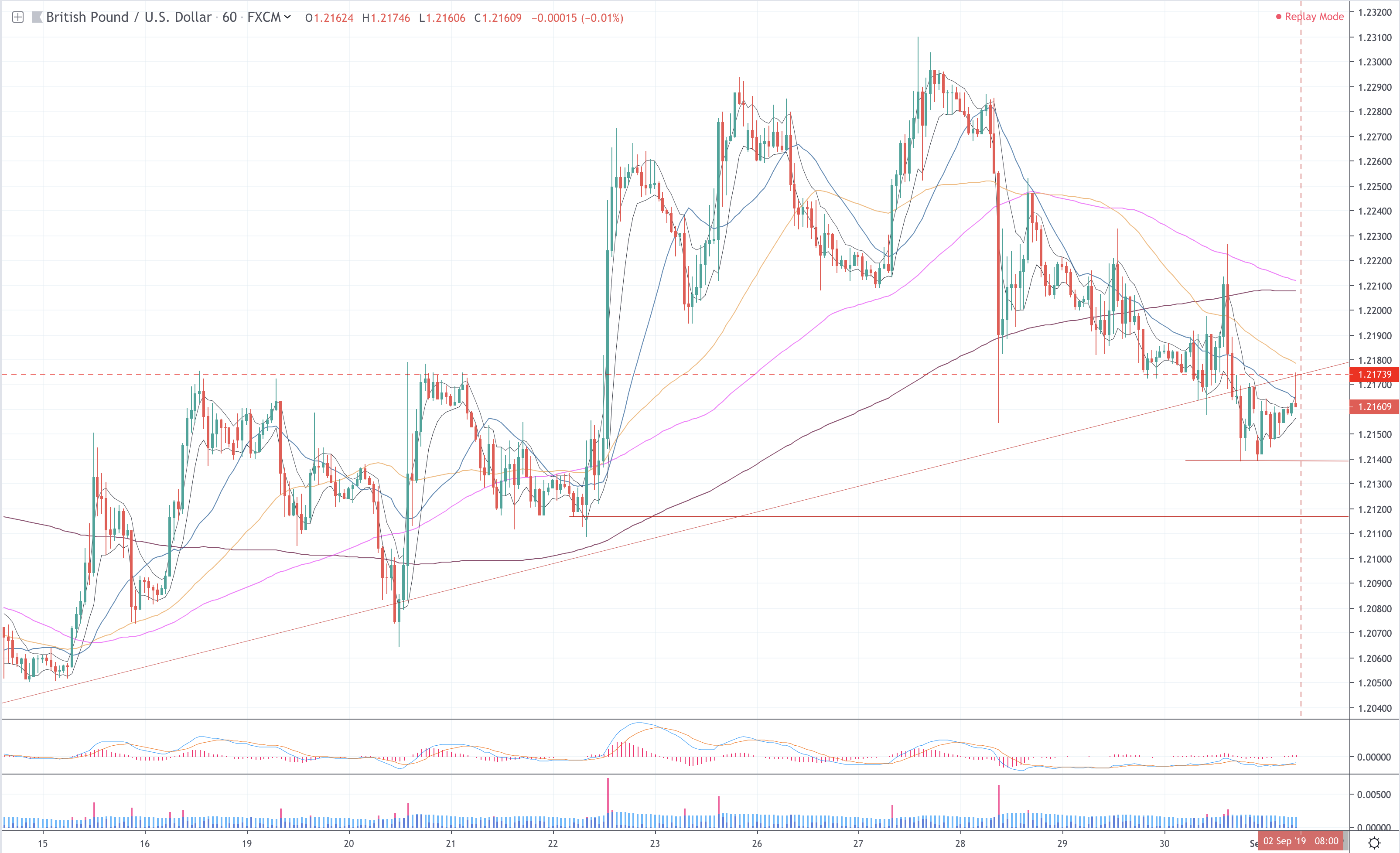 Here's my journal notes during the trade:
8am – OK with the set up, saw it straight-away, trying not to be greedy will set alerts for TP, SL and T1 to see if we swing fail. If we do I'll close out.
9am – Trade as closed below the first possible FTA at 1.21395 so holding to next level at 1.2117
9.10am – Trade over, wish all trades were that quick!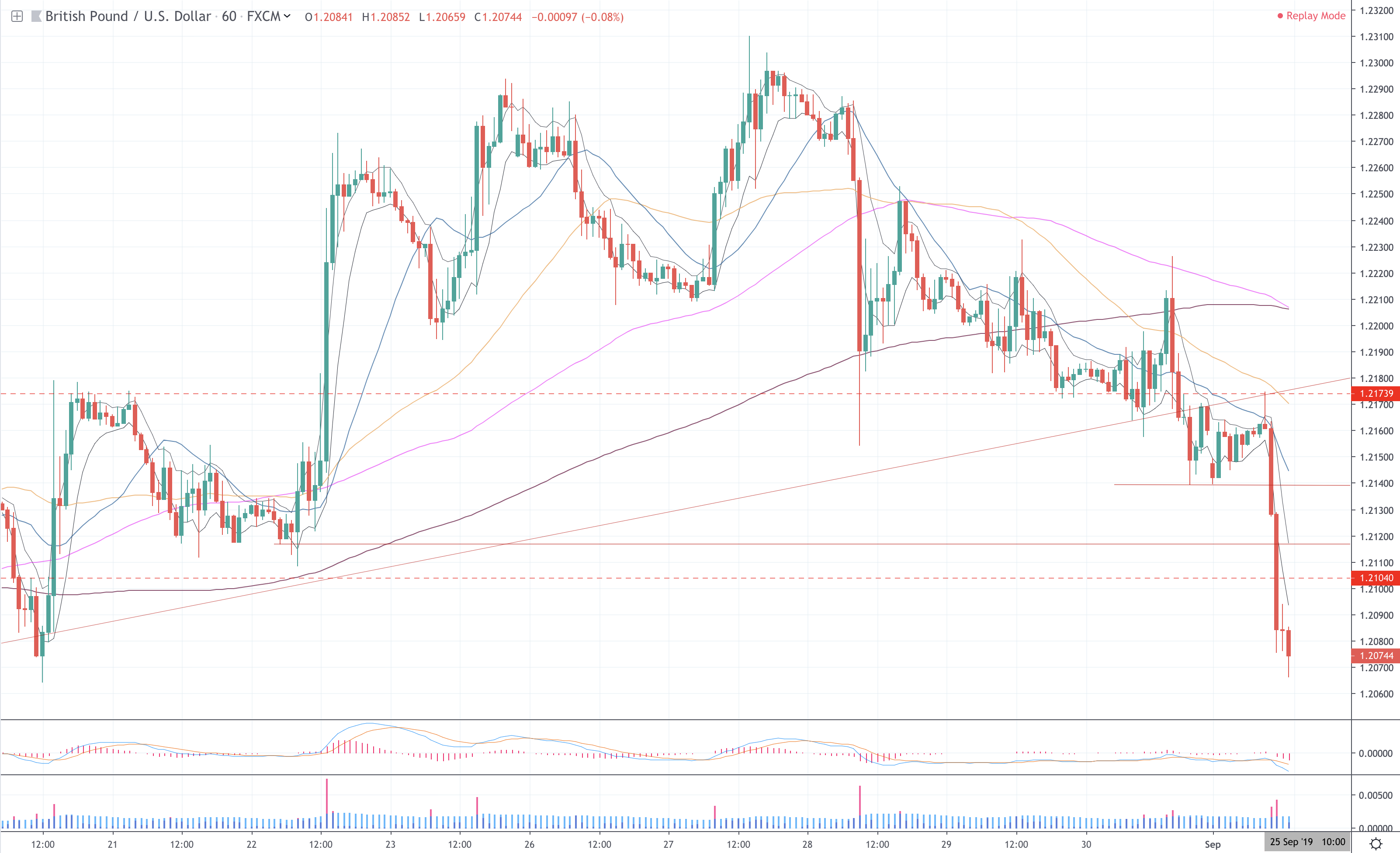 On reflection, I can't believe I got this trade. At the time I was trading a trendline kiss goodbye and prior S/R level. But the TL position was a bit meh. Excluded two recent prior swing lows.
On review – I wonder if TL should be tuned to the RHS like S/R levels… I think this was a better level to take a short from. Price SFP'd the TL and closed through the S/R level – which had previously been chopped.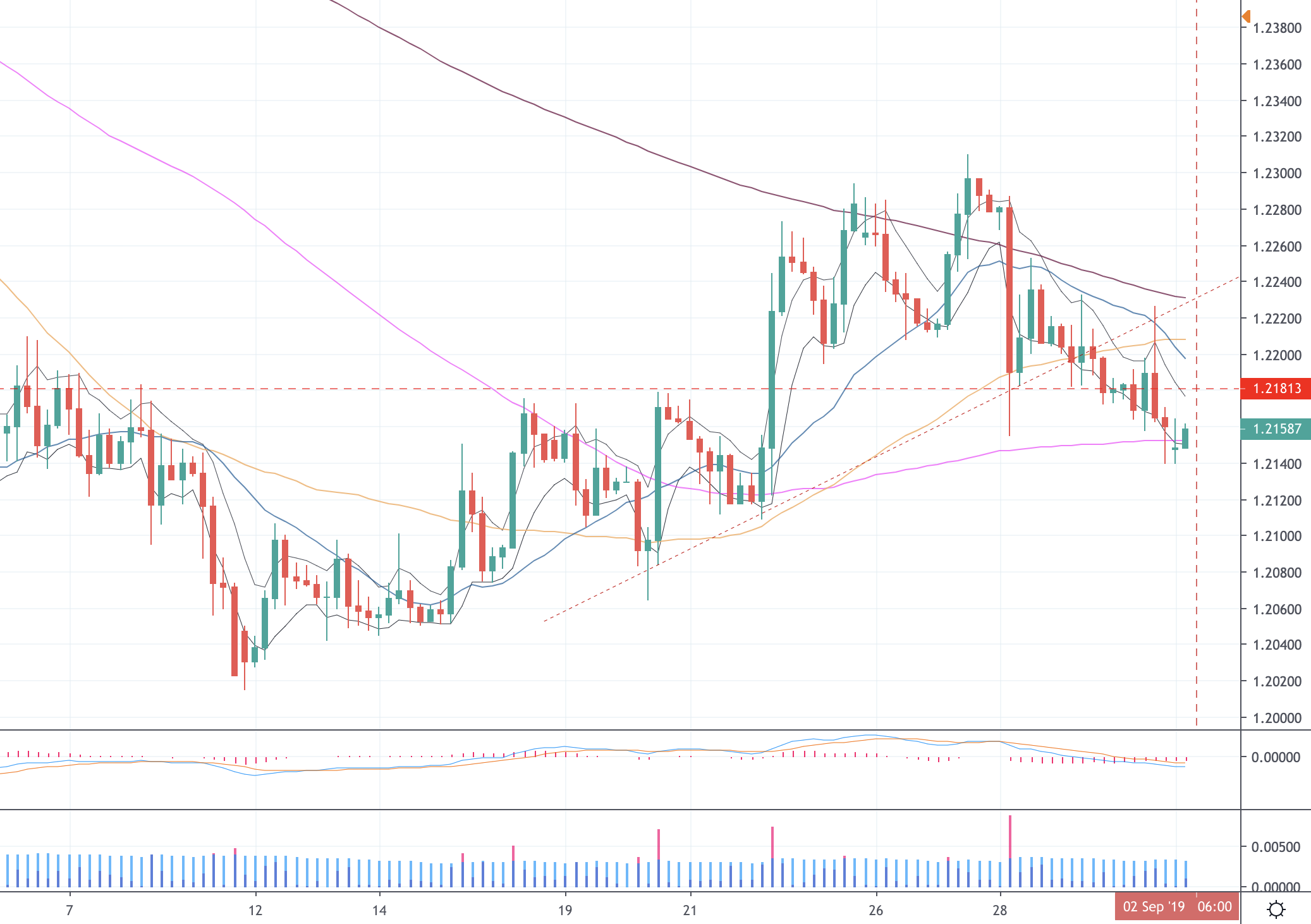 If it was, I think I could've got in at a better level. 1H SFP off the 1.2206 level which also SFP'ed the TL. The next level down had already been washed so was not likely to obstruct price.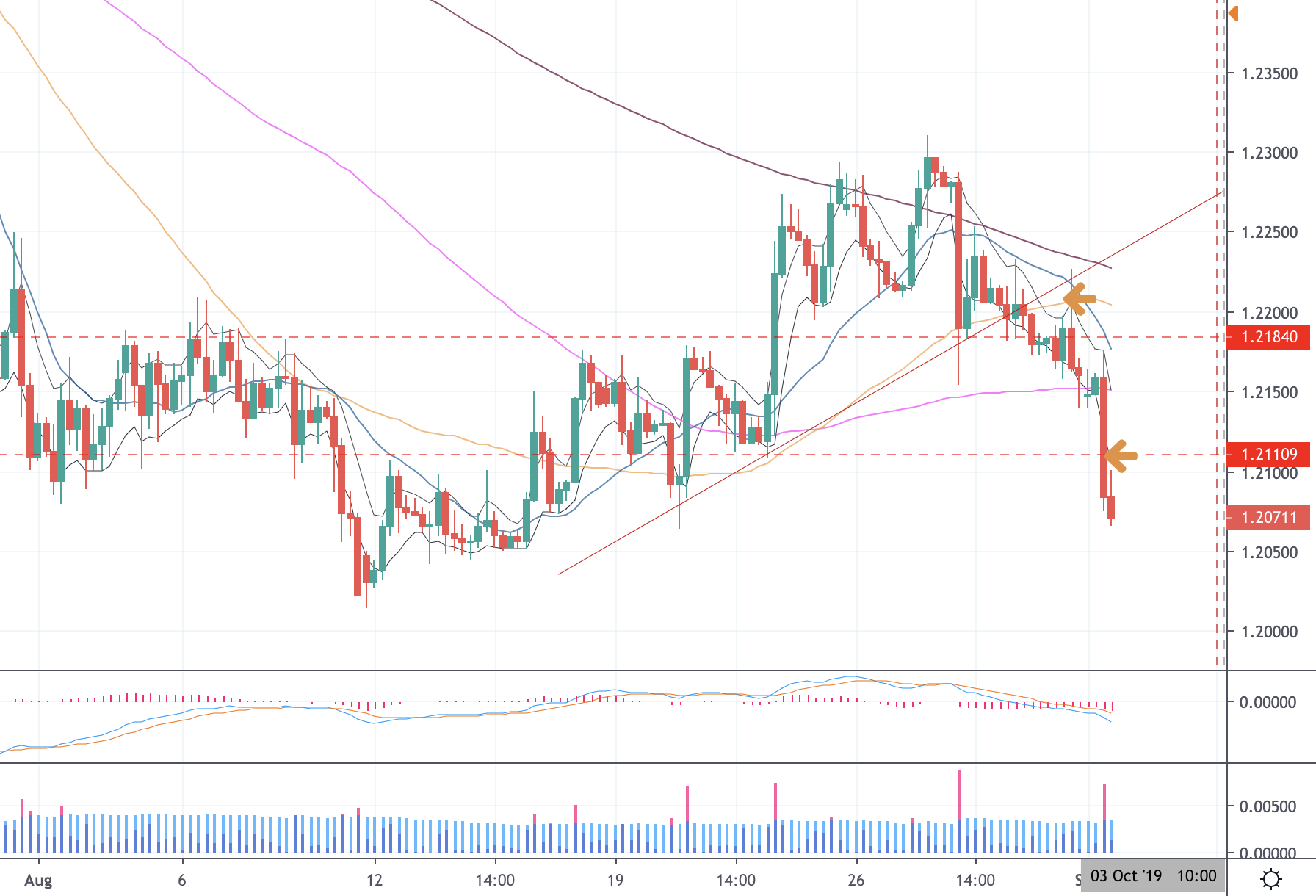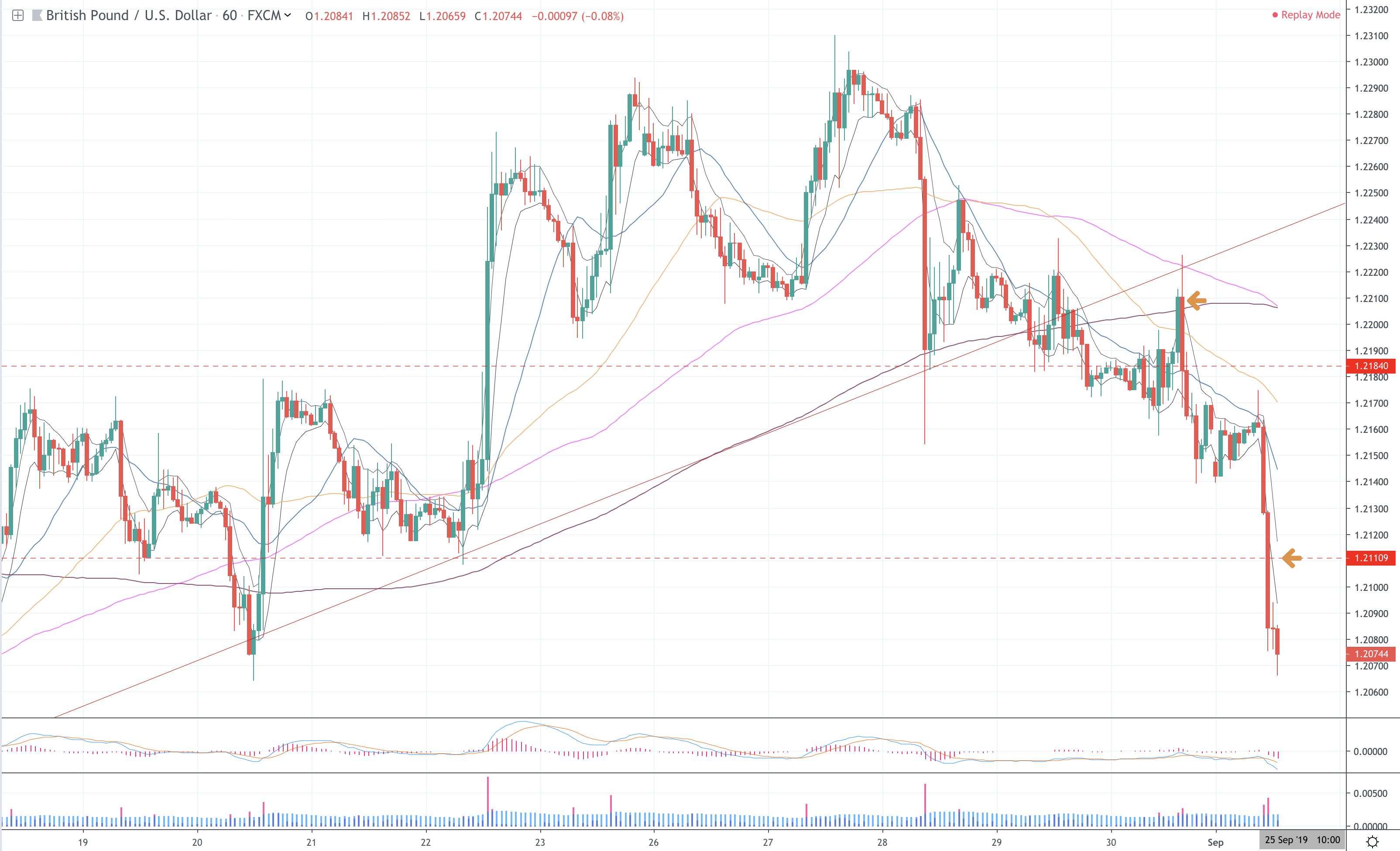 Given this became a 4H SFP When the 1H 1.21885 level broke, it was a clear hold for roughly where my target was at 1.2117. I could've held for a bit more but what's the point when we're so close to a safe target anyway.
So the entry could've been better happy with the exit. The 1h T1 FTA @ 1.21389 was fine to keep in mind. I've been burnt way too many times trying to run SFP trades! 
04 Sep 19, 14:30 – GBPUSD 1h SFP Short (-0.54R)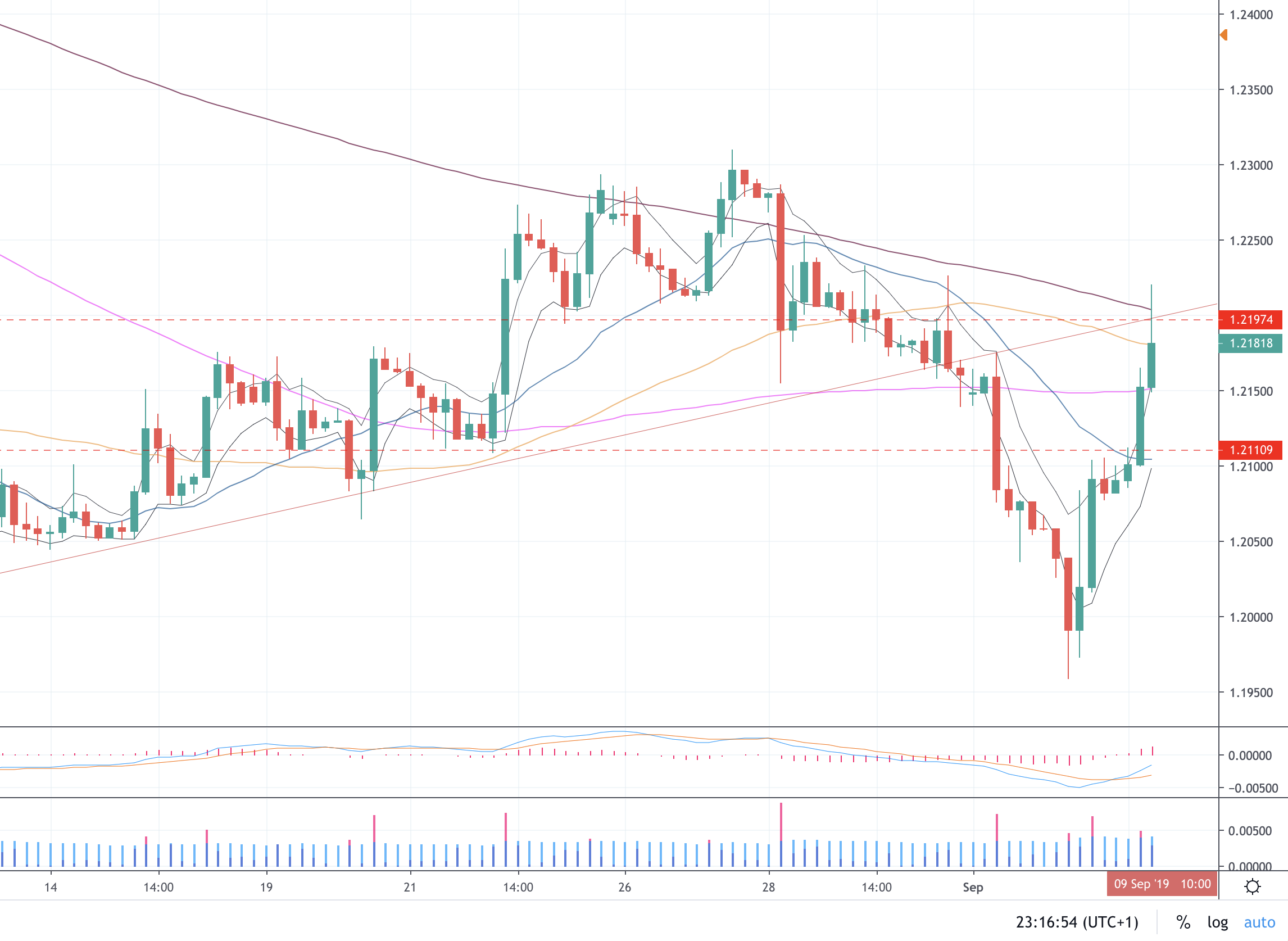 This was a total mis-read of the market. My trendline was in the wrong place so I was trying to short the market from a 2nd TL failure !?
I also held the view that new daily lows were still on the cards. Totally missed/ignored the daily divergence long which should've had a target at 1.23. So this short was also against a strong trend. I was also aiming for 1.21109 quite a big move. I remember struggling to draw the 4h level so I guess that should've told me if there was a level to trade it wasn't on the 4h chart.
The short was there but only on the 1h timeframe and so the target should've been on the 1h timeframe too. Here's what the trade should've been. Target at 1.2165 at the last spike pre-break of the level.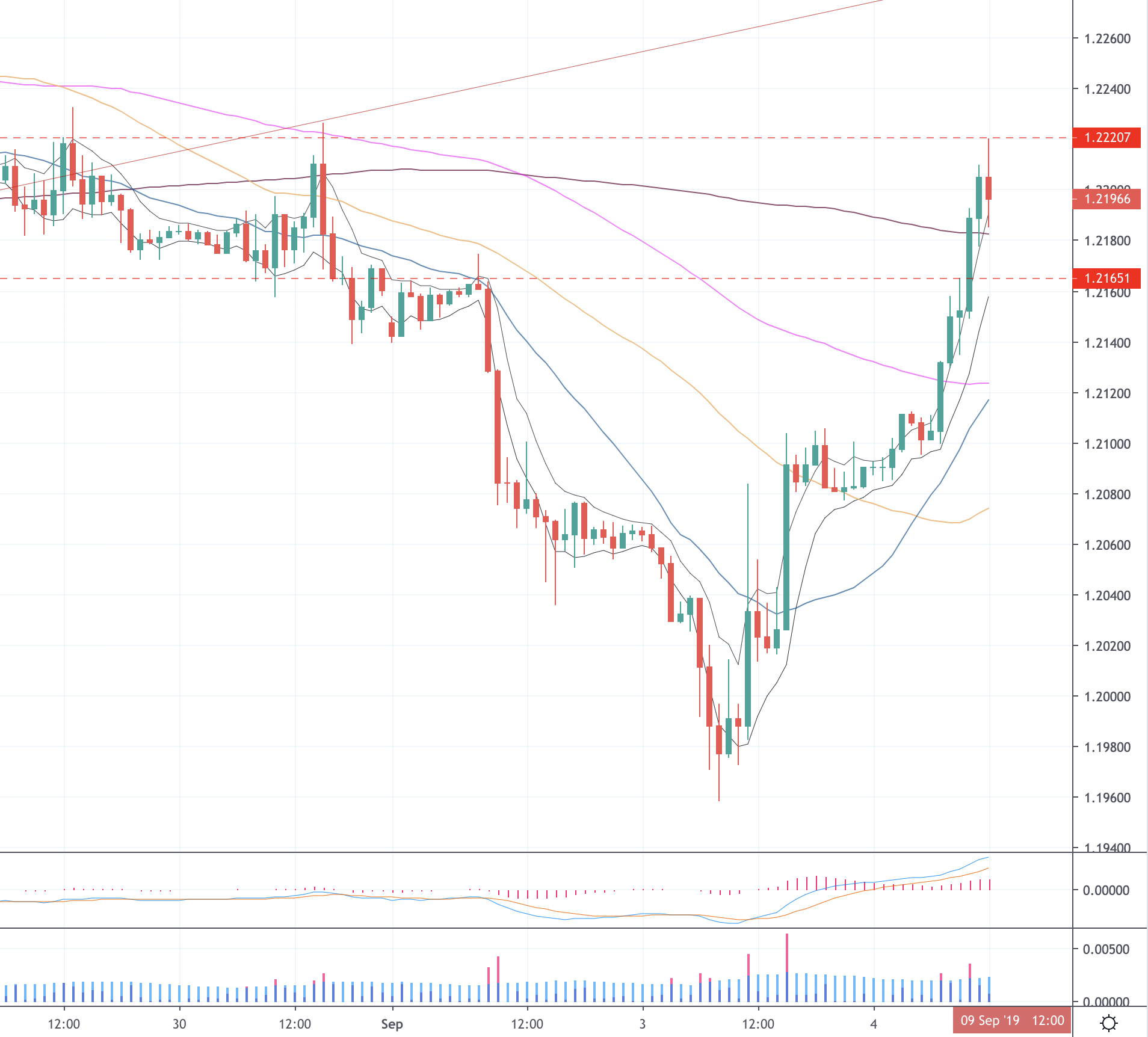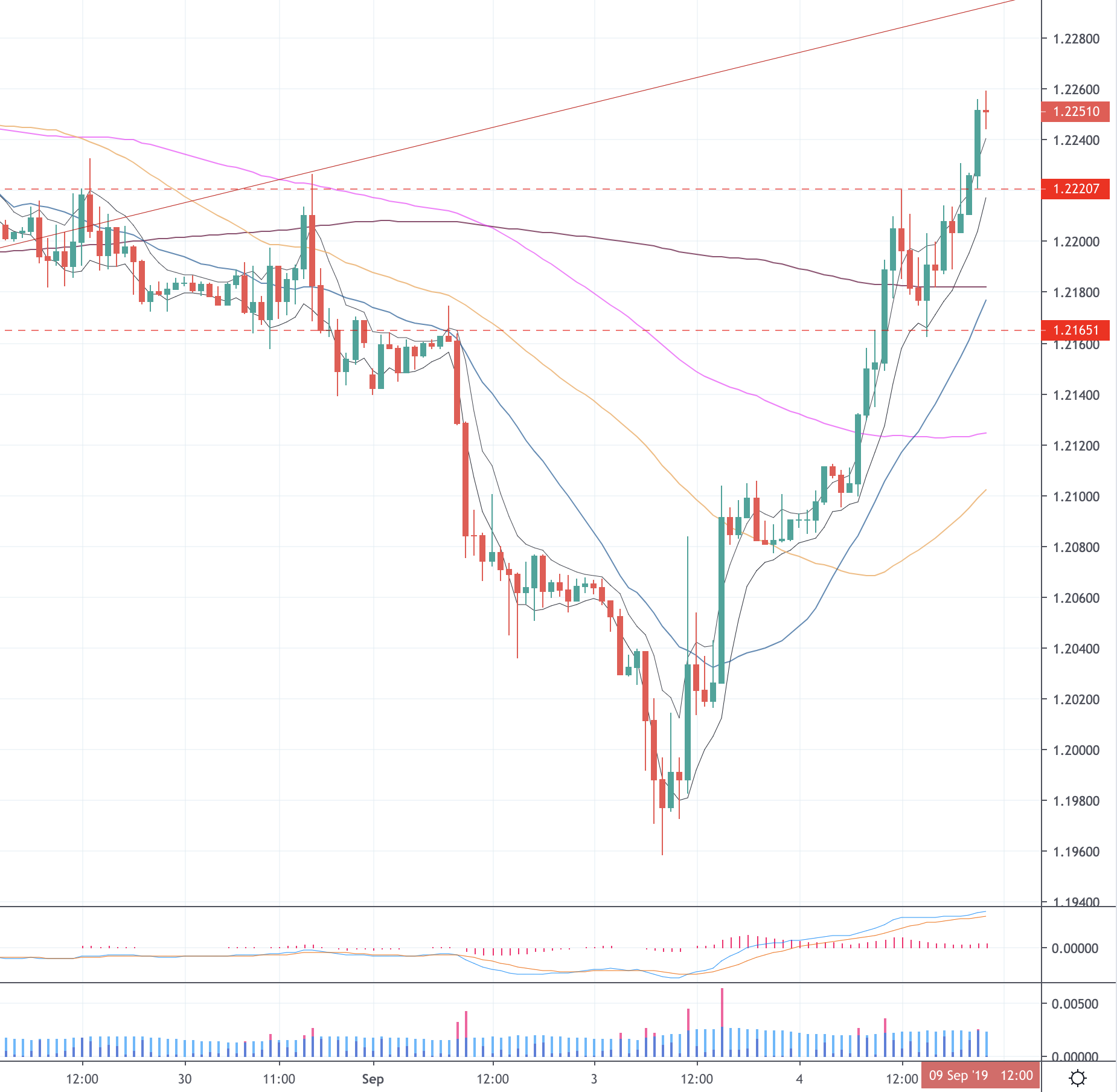 Should've been a 1:1 winner.